Get Free
Best-in-class
SEO Audit
DiagnoSEO checks over 200 top on-page ranking factors related to SEO. It's far more than other SEO audit tools on the market. Results confirmed on brands from the Fortune 500 list. Unlock the potential of your website.

SEO Tools of Enterprise Quality Now Available for You
Discover best-in-class SEO software. Perform page audits, analyze competitors, create better content, and monitor your website.

On page SEO Audit
Check over 200 top on-page ranking factors related to SEO. It's far more than other audit tools.
Advanced TF IDF Tool
Count both TF IDF and keyword frequency. Easily find missing keywords and phrases.
Competitors Analysis
AI powered competitors analysis provides quick tips about what exactly you need to do.
Content Editor
Check your content easily and save time. Make your article perfect for SEO and usability.
Keyword Placement
Optimize your website for a keyword in line with the latest and best SEO practices. This tool makes positioning easy.
Domain Monitor
Monitor domains and services to keep your business under control. Detect expiring domains or sites that have stopped working.
SEO Crawler
Scan your website for any SEO errors that might be blocking your website's potential. Crawler DiagnoSEO detects more than the others.
CMS & Web Experience Management
Usability, accessibility and the overall quality of a website are factors that influence the user experience. Make them the best.
About DiagnoSEO
Our mission is to help website owners to make better SEO and succeed in today's highly competitive world of the search engines.
Get an Unfair Advantage Over Your Competitors
Find and fix issues on your website. DiagnoSEO can help you to optimize your website in terms of the most important on-page SEO factors. Thanks to these simple to use online SEO checking tools you can quickly get the most essential data about issues related to your on-page search engine optimization. Audit your website, implement recommendations, and improve your search performance.
Review your website, resolve all reported issues, and boost your ranking. The audit tools are created based on over 10-years of experience in the SEO industry.
Get the most detail-oriented technical SEO Audit.

Discover new ways to improve your website.

Quickly analyse SEO factors used by your competitors.
Boost your organic traffic
DiagnoSEO tool can tell you exactly what to do and fix in order to increase rankings. It's important to work in a holistic approach. That means you should improve technical SEO, content, and link building profile at the same time. That's why you should use all the SEO tools.
Thanks to the TF IDF tool you will know what keywords to include on your page. Thanks to Competitors Analysis you will discover how long should be your content, where to put important keywords. and many more. AI algorithms will tell you what sentiment you should use. Content Editor tool can give you tips about how to write the best content for SEO and your readers.
Get keywords to include in your content.

Write better content for SEO and users.

Get tips to make better on-page optimization.
QUALITY CONTROL
DiagnoSEO checks different aspects of the website so that you can ensure that overall website quality meets the latest and highest enterprise standards.
SEO
Accessibility
Content Quality
Performance
Analytics
Social media
Security
Usability
Legal and GDPR
Brand compliance
Best Practices
Compare DiagnoSEO to other SEO tools
Discover the true reasons why DiagnoSEO is the best-in-class SEO software. We are working hard every day to make it even better.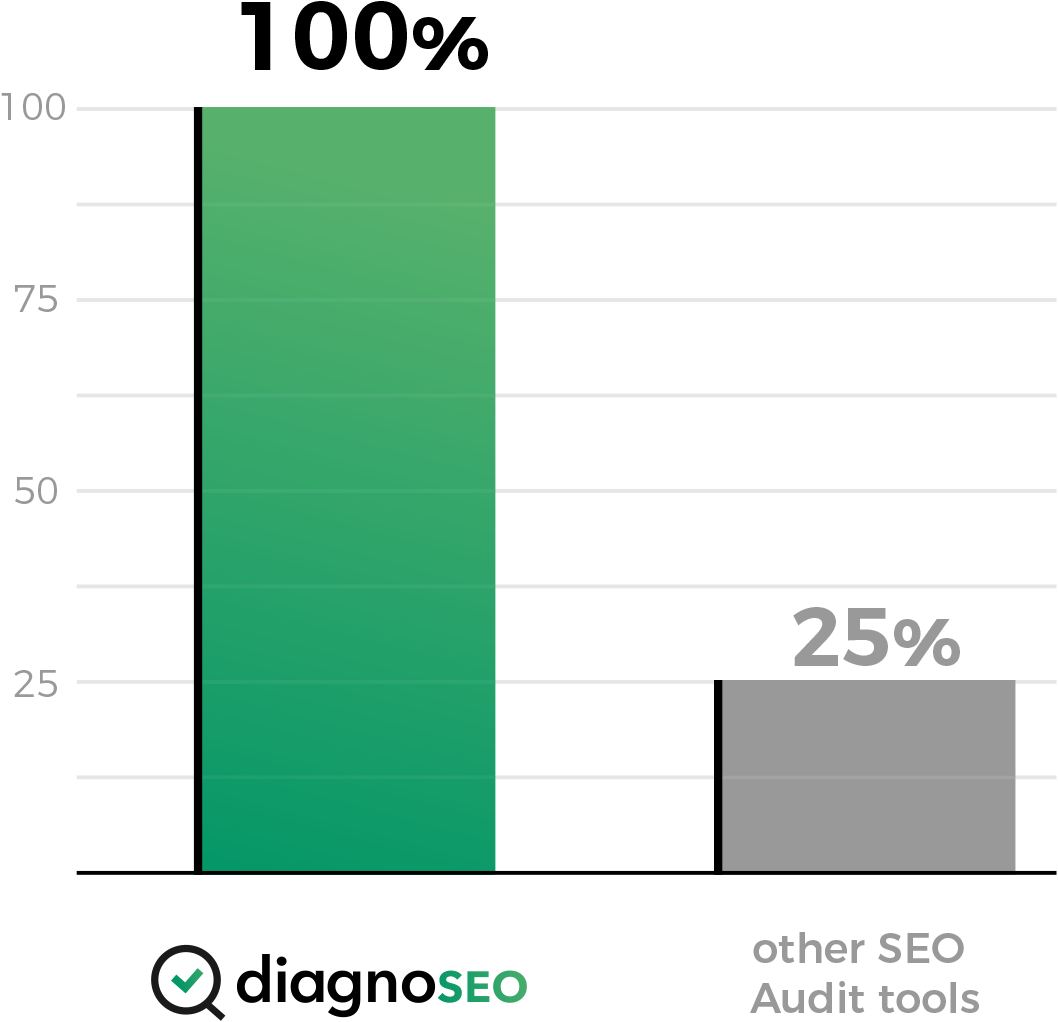 DiagnoSEO Has The World's Best Audit Tools
We compared DiagnoSEO to other audit tools available on the market in 2020. We discovered that DiagnoSEO is even 4 times better than most popular and famous tools. We counted and compared the number of checkpoints.
Discover New Opportunities and SEO Issues
You Never Seen Before
You don't need to test all of your pages with DiagnoSEO. Just test a sample of different types of your pages. For example, if you have a shop website then you should test the homepage, category page and product page. If your website has a blog then it's good to test also single article page. Make an audit today and see what you can fix. There is always a possibility of improvement.
Get the Best SEO Recommendations
Try DiagnoSEO today and discover far more ways to unlock the hidden potential of your website.
Why diagnoseo is better?
| | | |
| --- | --- | --- |
| | | Other |
| Number of checkpoints | >200 | ~50 |
| Competitors Analysis tool | | |
| Content Editor | | |
| Keyword Placement tool | | |
| SEO Crawler tool | | |
| TF IDF tool | | |
| CMS & Web Experience Management | | |
| Domain Monitor tool | | |
| Unique Content Marketing Solutions | | |
| The lowest price after trial period | 27$ | 49$ |
Testimonials
Over 2 000 users world-wide use DiagnoSEO in daily SEO routines. Find out how it helps them.
One month after using DiagnoSEO tools we get about 25% traffic increase. DiagnoSEO is a perfect solution for quick and in-depth audits and competitors analysis. Quick audits speed up work on multiple agency clients.
AdamSenior SEO Specialist
"Content Editor and TF IDF tools from DiagnoSEO help me to make better content and save a lot of time. Implementing proper keywords in the content and providing the best content quality is getting more and more important in SEO and DiagnoSEO makes it a lot of easier."
"As the web development company SEO was always an important part of our business and our customers. We put strong attention to the technical SEO details and we can truly recommend DiagnoSEO as the best software on the market for single page audits."
"Thanks to competitors analysis I can quickly get most essential and easy to understand recommendations about what exactly I can improve on my page and content to get better SEO results. Two weeks after implementing the recommendations I got a huge ranking improvement. It works, thank you DiagnoSEO!"
"DiagnoSEO helps me to find problems on my pages and reports SEO optimization tips. Tools for analyzing the competitions and optimizing for the targeted keyword give me great results even for a very competitive industry."
DanielAffiliate Marketing Expert
Pricing plans
Get access to best-in-class SEO software. Find and fix issues on your website. Analyze competitors. Improve content. Increase rankings.